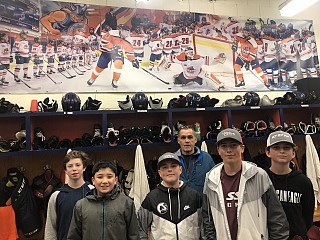 Salem, MA- St. Anselm's Women's Hockey traveled to Salem State for a midweek match up in college hockey on Tuesday. The 2006 Viper Select team took the game in to support of Viper Alum Caroline Kukas (No. Andover, MA) a Freshman goaltender for the Hawks.
The '06 Vipers were given a private tour of the locker room and facilities by Coach Bill O'Neill. Coach O'Neill spoke to the team about working hard every day. He spoke of college hockey players being built with strong foundations that are built by daily routines over years of sacrifice and hard work. That hard work culminate into a great student- athlete. Coach O'Neill has won 602 NCAA games and sits as the 12th winningest Coach in U.S. college hockey. As a player he won a National Championship with Boston University.
The team also met with the Officials that worked the game. Referee Katie Guay spoke to the 13 year olds about the endless possibilities in officiating for these potential referees. Katie has officiated in the Olympics, she is the only female to ever officiate in The Beanpot and the past fall she officiated pre season games in the NHL. Professionally, she is the Director of Philanthropy for USA Hockey.
It was a pleasure to meet with two legends of the game in one night. This sport connects great people and alot of smiles appeared on the faces of these young men. The '06 Vipers travel to Montreal, QC this weekend for the Can-Am Challenge Cup. Coach O'Neill and Referee Guay will be rooting on the Vipers from college hockey rinks in New England.