RSS Feed
1 - 5 of 468
Tuesday, August 15, 2023, 5:32PM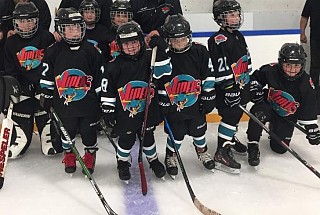 We have a few spots remaining open for the 2023-24 season.
2016 - 1 spot
2015 - 1 spot
2013 - 2 spots
2012 - 1 spot
2010 - 1 spots
U18 - 2 spots
For more information, please email: vipers@vipersicehockey.com
Friday, May 19, 2023, 8:00AM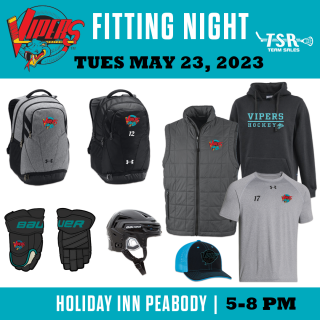 ONLINE STORE LINK: https://bostonvipers2023.itemorder.com/
The Vipers annual equipment and apparel fitting will be held on Tuesday May 23rd. Specific team schedule is listed below. Please try to attend at your specified time. 5/23/23 is the only fitting date. Items will arrive prior to Bootcamp in August.
ATTENDANCE: All 2023-24 players are required to attend. Please bring your knee pads and shoulder pads for proper jersey and socks sizing.
GAME JERSEYS/SOCKS: The Vipers game jerseys will be on hand for proper sizing. (Game jerseys are the long lead time item. To ensure arrival prior to the season, the order will be placed at the fitting.)
RETURNING PLAYERS: Please doublecheck your Jerseys and socks to ensure they will still fit in the fall.
APPAREL: This year the Vipers have added a variety of new apparel options. TSR will be showing all of the new apparel options and equipment. Orders will be finalized at the fitting or the online store which will be open for a limited time during the apparel fittings.
EQUIPMENT: All Vipers players are required to wear SOLID BLACK gloves, pants, and helmets next season. SOLID BLACK ONLY. You are welcome to purchase equipment from any manufacturer. The Vipers have partnered with TSR to offer discounted prices on equipment and apparel. TSR will have experts on site to answer questions and properly fit each player.
LOCATION: Holiday Inn, 1 Newbury St., Peabody, MA 01960
TEAM SCHEDULES:
MAY 23, 2023
5:00p - 2015/16
5:15p - 2014
5:30p - 2013
5:45p - 2012
6:00p - 2011
6:30p - 2010
7:00p - U14
7:30p - U16
7:45p - U18

Sunday, April 2, 2023, 4:00PM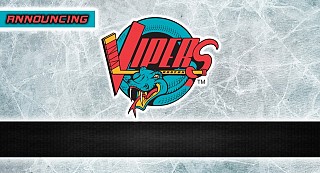 The U18 National Bound Tryouts will begin on April 5th.
Wednesday April 5th @ 8:30p REVERE

Wednesday April 12th @ 8:30p REVERE
Monday, March 27, 2023, 4:00PM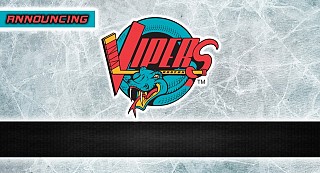 The Vipers are pleased to announce John Garron as the 2013-GOLD Coach for the 2023-24 season.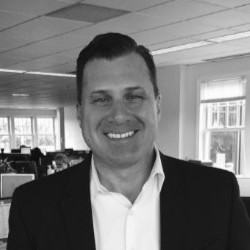 John grew up in Everett, MA and started playing hockey at age 5 for the town youth hockey program. John has a USA Hockey Level 1 Coaching Certification with current training ages up to U10. As a coach, John focuses on skill development, team work, respect, and having fun. John's goal is to develop his players so they are ready for the next level of hockey.

John and his wife Lauren, live in Winthrop, MA with their son John (age 9) and daughter Marli (age 5). John works for Dell Technologies as an Account Executive managing an account set in the Boston area.
COACHING EXPERIENCE:
2013 Vipers, Coach, 2023-Present

Winthrop Youth Hockey, Squirt AAA Coach, 2022-23

2013 Icemen, Mite Coach, 2021-22

Greater Boston Youth Roller Hockey League, Coach, U8 Team, 2021-2022
PLAYING EXPERIENCE:
Providence College

Everett High School
HOMETOWN:
Monday, March 27, 2023, 2:00PM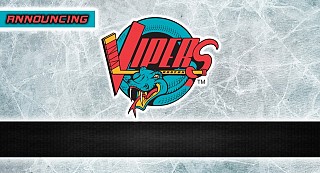 The Vipers are excited to announce Jeff Butters as the 2015/16 Coach. Jeff has coached multiple age levels over his coaching career. He truly enjoys the game and brings a wealth of knowledge to his players.
Jeff has a USA Hockey Level 4 Coaching Certification.
Coaching Experience:
2015/16Vipers, Coach, 2022-Present

Essex Tech School, JV Coach, 2021-Present

Vipers Mite Development, 2021

Marblehead High School, Girls Varsity Coach, 2019-20

U19 Vipers Elite, Coach 2010-13

Amesbury High School, Asst Coach, 2000-06
Playing Experience:
Hometown:

RSS Feed
1 - 5 of 468
No recent results

RSS