Monday, October 19, 2015, 11:04PM
On Sunday, the 07T came back from a 1-0 deficit in the third period to beat the Providence Padres 6-2. Great goaltending, solid defense and some great work upfront helped them rebound from a slow start.
With that win the team advances their EHF record to 9 and 0.
Monday, February 16, 2015, 9:50AM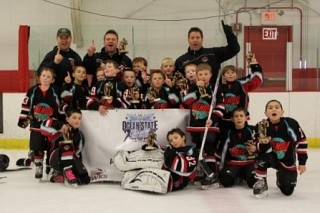 The 07E Vipers took home the Championship at the Ocean State Classic this weekend in Providence, RI.
In a hard fought final battle between the two top teams, the Vipers finished the Islanders, 6-3. Great forechecking, passing, & goaltending combined for a solid team effort from the entire roster.
6 games in 3 days was a huge test for 7 year old boys, but they seem to get better each day.
The Vipers skated thru the Bay State Breakers, PAL Islanders, Minuteman Flames, and Middlesex Islanders on their march to their first trophy.
Congratulations 07E Vipers!
Monday, October 6, 2014, 10:50AM
The 07E had a battle for second place schedueld for Saturday morning in Revere.  From the drop of the puck til the final buzzer, the 07's never slowed down.  Cody Mello played a great positional game and put himself where he needed to be for a two goal performance. The Vipers surfed by the 07Waves, 6-0.   
Sunday, October 5, 2014, 10:50AM
The 07E continued their dominant play into Sundays match up agist the 07 Minuteman Sparks. Each week the Vipers have begun to implement the practice plans and beat the Sparks to every loose puck. Led by a two goal outburst by an energized Derek Hudson and a solid defense core, the 07's burned by the Sparks 8-1.
No recent results

RSS