Monday, February 22, 2021, 7:00AM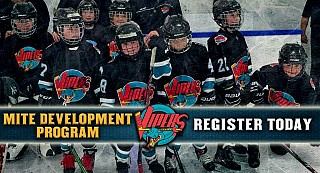 The Vipers would like to welcome you all to the Mite Development Program. 
For more information, please contact: vipers@vipersicehockey.com
Friday, November 6, 2020, 9:37PM
We are all excited to get re-started after the two week MA "Pause".
It is important for everyone to know and observe the rules in place.
We are all focused on complinace to the MA guidelines and ensuring that the kids hockey season remains open.
Please review the FMC guidelines
Friday, June 5, 2020, 1:11PM
Select Skills summer camps will re-open with the rinks starting 6/10/20. Attandance this summer will be restricted by the State, so please register ASAP. Any questions on how to register, please email vipers@vipersicehockey.com
Sunday, March 15, 2020, 3:40PM
FOR IMMEDIATE RELEASE:
Due to the COVID-19 concerns, Greater Boston Vipers are POSTPONING next week's tryouts. During this time, online registration will remain open and we encourage all interested families to register online.
www.vipersicehockey.com/tryouts
We will udpate everyone with rescheduled dates and times as soon as possible. All players that are registerd for tryouts will be updated via email.
We feel it is important to make the health and safety of our families the top priority. As a result, we are following the recommendations of the CDC, state, & local goverments.
Any questions, please let us know: vipers@vipersicehockey.com
Thank you.
Tuesday, March 3, 2020, 11:18AM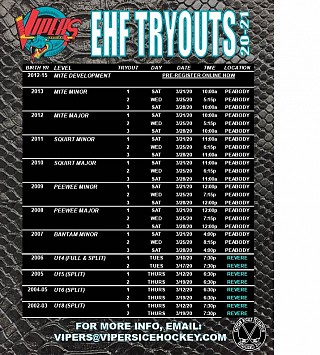 2020-21 EHF Tryout dates have been announced.
These tryouts are open to all players including current EHF players.
Register now: http://www.vipersicehockey.com/tryouts
*All players that attended the Non-EHF Tryouts are invited to attend.

RSS