Monday, August 9, 2021, 8:00AM

The Vipers apparel stores are OPEN thru Thursday 8/19/2021.
Wednesday, February 24, 2021, 11:18AM
Monday, February 22, 2021, 7:00AM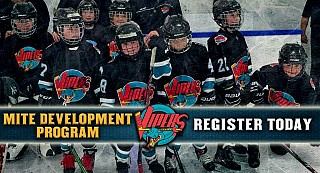 The Vipers would like to welcome you all to the Mite Development Program. 
For more information, please contact: vipers@vipersicehockey.com
Friday, November 6, 2020, 9:37PM
We are all excited to get re-started after the two week MA "Pause".
It is important for everyone to know and observe the rules in place.
We are all focused on complinace to the MA guidelines and ensuring that the kids hockey season remains open.
Please review the FMC guidelines
Friday, June 5, 2020, 1:11PM
Select Skills summer camps will re-open with the rinks starting 6/10/20. Attandance this summer will be restricted by the State, so please register ASAP. Any questions on how to register, please email vipers@vipersicehockey.com

RSS