Tuesday, March 3, 2020, 11:18AM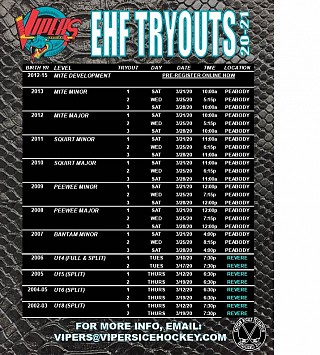 2020-21 EHF Tryout dates have been announced.
These tryouts are open to all players including current EHF players.
Register now: http://www.vipersicehockey.com/tryouts
*All players that attended the Non-EHF Tryouts are invited to attend.
Wednesday, February 26, 2020, 11:07PM
Marc grew up in Barrington, Rhode Island and started playing hockey at age 7. He credits his
success in hockey to some of his earliest coaches who demanded accountability and required
meticulous technique but meanwhile instilled love of the game. Hockey not only provided him with some of the best experiences, friendships, and mentorships of his life but also provided him with the opportunity to learn critical life lessons.

Marc is currently the Chief Operating Officer of a Boston based retail food business where he
manages a team of 90 employees. He lives in Swampscott, MA with his wife, daughter, and twin
sons. His passion is watching all 3 of his children as well as other children learn, enjoy, improve,
and love the game of hockey the way he does.
Coaching Experience:
09Vipers, Coach, 2020-Present

Salem Swampscott Blades, Director of Hockey Operations, 2019-present

Salem Swampscott Blades, Coach 2016-20

Swampscott Salem Blades, Learn to Play Program, Coach


Swampscott Indoor Soccer, Coach, 2017

Swampscott U9/10 Girls Soccer, Coach 2016-2017

USA Hockey Level 3 Certified Advanced Coach
Playing Experience:
Hockey Night in Boston Sophomore Allstar team 1989

Hockey Night in Boston RI defenseman of the year Junior Year 1991

Hockey Night in Boston RI defenseman of the year Junior Year 1992

Barrington High School Varsity 1987-89

Played for RI Saints Hockey Club and Providence Capitals from 1980-1988
Hometown:
Wednesday, February 19, 2020, 12:44PM
Kurt Wright - Mite Major 2012's
Kurt grew up in both the North shore and South shore of Massachusetts respectively (Marshfield and North Andover). During his career in hockey from youth thru professional, he has received training from some of the best coaches and has played alongside some of the greatest players not just in New England but in the world.
Kurt brings a wealth of knowledge to the Viper program.
Currently, Kurt is a Managing director (Wealth Advisor) and a lead Portfolio Manager at Wells Fargo Private Client group and resides in Marshfield, MA.
Pittsburgh Penguins Organization , Wheeling Nailers (ECHL), 2006 – Retirement

Robert Morris University - CHA (NCAA D1) (Two Year Captain) 2003-2006University of New Hampshire – Hockey East (NCAA D1) - 2001

Selected for 2005 NCAA Skills competition

Offensive player of the month 5 times

2 years All-Academic team
Crowsnest Pass Timberwolves now Okotoks Oilers (AJHL - Alberta JR A. league, CHL) 2001-2002

Cushing Academy Prep School 1996-2000 ( Asst. Capt.)

Hockey Night in Boston – Sophomore MVP Award winner

USA Hockey select 16 and 17 team selection

Watkins Invitational all-tournament team 1998-1999

D1 Prep School Champion (Cushing Academy) 1998 - New England Prep School
Garry Hebert's World Academy of Hockey – lead instructor for small group elite skill development – 1999-2006

Pittsburgh Jr. Penguin's AAA – Volunteer skill development lead 2004-2006

BU Jr. Terriers (EHF Elite Midget) - 2009-2011

Coast Stars Skills Director on ice activity - 2017 -2018

2012 Greater Boston Vipers head coach - 2019-present
Tim Warner - Mite Minor 2013's
As a former Division 1 Hockey player at The University of Massachusetts, Tim has experience playing hockey at many different levels. Tim grew up in Waltham, Massachusetts where he began his hockey career. Throughout the years, he was able to play for some of the best teams in North America, with and against the best competition in the world. Tim has a wife, Alicia, three hockey playing children (Dougie, Charlie, and Abby), and resides in Wakefield, MA.
Currently, Tim is a Vice President of Sales for a tech startup in Boston, MA.
University of Massachusetts
2004 Hockey East Runner Up
2000 New England Champions and Playoff MVP
2000 & 2001 First Team All Founders League
New England Prep School West First Team
First Team All New England
Co-Captain
Voted First Team all New England
Voted Top Goalie
Sophomore All-Stars
Started every game freshman and sophomore year
Super 8 qualifiers
USA Hockey 14's, 15's, 16's, 17's.
Voted Top Goalie and first team at National Festival
PuckStoppers Goaltending Academy

Superskills

Paul Vincents Dynamic Skating

Wakefield Youth Hockey
Monday, February 10, 2020, 11:18AM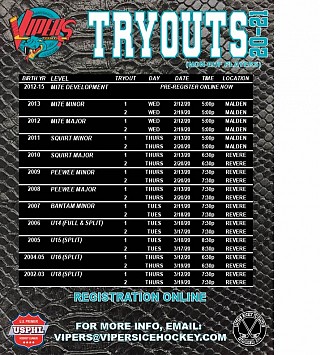 2020-21 Tryout registration is OPEN.
http://www.vipersicehockey.com/tryouts
Friday, February 7, 2020, 9:00AM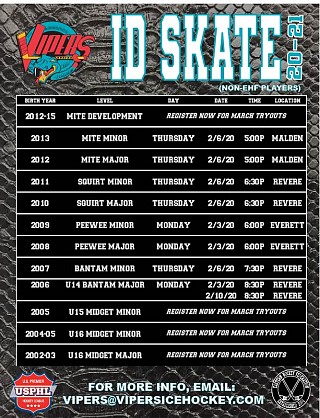 ID Skates for Non-EHF Players tonight 2/6/20.
13's, 12's, 11's, 10's, & 07's
No cost. Pre-registration on the ID SKATE page.
For any questions, please email: vipers@vipersicehockey.com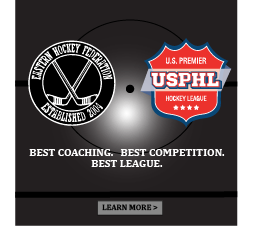 No recent results

RSS