Friday, June 5, 2020, 1:11PM
Select Skills summer camps will re-open with the rinks starting 6/10/20. Attandance this summer will be restricted by the State, so please register ASAP. Any questions on how to register, please email vipers@vipersicehockey.com
Sunday, March 15, 2020, 3:40PM
FOR IMMEDIATE RELEASE:
Due to the COVID-19 concerns, Greater Boston Vipers are POSTPONING next week's tryouts. During this time, online registration will remain open and we encourage all interested families to register online.
www.vipersicehockey.com/tryouts
We will udpate everyone with rescheduled dates and times as soon as possible. All players that are registerd for tryouts will be updated via email.
We feel it is important to make the health and safety of our families the top priority. As a result, we are following the recommendations of the CDC, state, & local goverments.
Any questions, please let us know: vipers@vipersicehockey.com
Thank you.
Sunday, March 8, 2020, 3:35PM
Tuesday, March 3, 2020, 11:18AM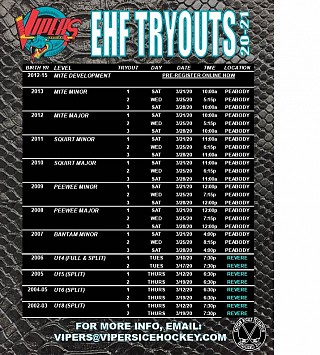 2020-21 EHF Tryout dates have been announced.
These tryouts are open to all players including current EHF players.
Register now: http://www.vipersicehockey.com/tryouts
*All players that attended the Non-EHF Tryouts are invited to attend.
Wednesday, February 26, 2020, 11:07PM
Marc grew up in Barrington, Rhode Island and started playing hockey at age 7. He credits his
success in hockey to some of his earliest coaches who demanded accountability and required
meticulous technique but meanwhile instilled love of the game. Hockey not only provided him with some of the best experiences, friendships, and mentorships of his life but also provided him with the opportunity to learn critical life lessons.

Marc is currently the Chief Operating Officer of a Boston based retail food business where he
manages a team of 90 employees. He lives in Swampscott, MA with his wife, daughter, and twin
sons. His passion is watching all 3 of his children as well as other children learn, enjoy, improve,
and love the game of hockey the way he does.
Coaching Experience:
09Vipers, Coach, 2020-Present

Salem Swampscott Blades, Director of Hockey Operations, 2019-present

Salem Swampscott Blades, Coach 2016-20

Swampscott Salem Blades, Learn to Play Program, Coach


Swampscott Indoor Soccer, Coach, 2017

Swampscott U9/10 Girls Soccer, Coach 2016-2017

USA Hockey Level 3 Certified Advanced Coach
Playing Experience:
Hockey Night in Boston Sophomore Allstar team 1989

Hockey Night in Boston RI defenseman of the year Junior Year 1991

Hockey Night in Boston RI defenseman of the year Junior Year 1992

Barrington High School Varsity 1987-89

Played for RI Saints Hockey Club and Providence Capitals from 1980-1988
Hometown:
No recent results

RSS