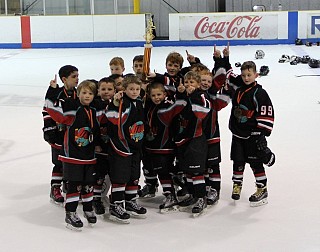 Completing the weekend 4W-0L-2T, the 07Vipers captured the Championship at the Warrior Thanksgiving Classic.
Ethan "E-Money" Addazio held the Warriors scoreless in the Finals thru regulation and overtime. With their first shooter sneaking one across the line, Addazio locked it up and turned away the next 3 shooters.
Nick Evans, Joey DeBernardo, Connor Harvey, and Cooper Hosmer proved to be too much for any opposing offense. In six games, the defensive pairings better known as "Shake & Bake" and "Smash & Bash" only allowed 3 goals against throughout the tourney. They moved the puck up the ice well and limited any offensive chances to off-angles and exterior shots.
The line of Christian Coleman, Cade Cooper, and Tynan Moses kept the opponents limited with consistent backchecking. While the line of William Iler, Michael Doe, and Heavy D took the puck wide for some great scoring chances all weekend. Cole Sanders, Logan Bowen, and Derek "Junk Yard Dog" Hudson were relentless on the forecheck keeping constant pressure and offensive chances. These forwards made the decision that this tournament was going to be won by hard work so they put on their hard hats and went to work each day.
It was a great team weekend where all the boys individually stepped up and contributed for the greater good of the team.
Game 1: vs Warriors-Select, 6-0 Win
Game 2: vs Wizards-Elite, 0-0 Tie
Game 3: vs Warriors-Elite, 6-0 Win
Game 4: vs Spartans-Elite, 1-1 Tie
Semi Finals: vs Spartans-Elite, 4-2 Win
Finals: vs Warriors-Elite, 3-1 Win