Monday, November 28, 2016, 6:44AM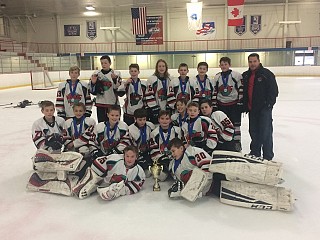 The 05 AAA Vipers entered the North American Fall Tournament at the New England Sports Center in Marlboro with hopes of representing the Vipers organization and themselves well. They surpassed everyone's expectations.
The first game was played at 8:20 am the day after Thanksgiving. Fortunately there were no Tryptophan affects for the energized 05 players. They won the opener 7-0. The second game of the day proved to be more challenging. It was a tough fought 5-3 win against a chippy team from Cape Cod. The next game played at 7:30 am Saturday morning was a little easier for the players than the parents. Fortunately the parents were not playing and the boys took care of business with a 7-2 victory. The final game of the qualifying round was penalty filled. The vipers were down to the New England Hurricanes 1-0 early in the game but battled back for a 4-2 win. This was anybody's game right up to the end. The vipers were 4-0 and heading to the finals at 10:10 am on Sunday, November 27, 2016. They were scheduled to play the New England Hurricanes. The last game against them was very competitive and it could have gone either way. However, the Vipers were the first to score in this game and they never looked back. Regardless of the situation and the continuous stoppage of play due to penalties, the young players from the Vipers demonstrated maturity and discipline by staying focused on the objective of winning the game by outscoring the other team. The final was 13-0 and they were the CHAMPS.
CONGRATULATIONS to the 05 AAA Greater Boston Vipers!
No recent results

RSS